Zurück Classy: Bright Golden Southsea Pearl Studs with Diamonds
@
Newsletter
abonnieren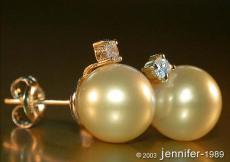 1 800,00 €
inkl. MwSt. zzgl.
Versand
Artikel-Nr.:
po_08
Einzelanfertigung unserer eigenen Designer/Goldschmiede!
Empfohlener Verkaufspreis im gehobenen/namhaften Fachhandel: 2 450,00 EUR
First, these studs are dominated by two golden southsea pearls - perfectly rounded, completely flawless, silky smooth skin, high gloss luster. One diamond each is set above.
The studs are closed by butterfly fasteners.
A precious piece of jewelry that is independent from any fashion trend.
Artikelbilder
Two golden Southsea Pearls, 10-11 mm diameter, spotless
2 diamonds, 0,15 cts. h-si
Processing: Yellow Gold 14k
Weight: about 4-5 grams
This piece of jewelry will be crafted at the time of order. Delivery period: 4 - 6 weeks within Germany, 5 - 7 weeks outside Germany.
And if you like this design, you'll also find a matching ring and necklace on our website. Moreover, we also offer these studs with white southsea pearls as well as with tahitian pearls.