back Luxury: Splendid Diamond Eternity Ring (10.60 ct.)
@
subscribe to our
newsletter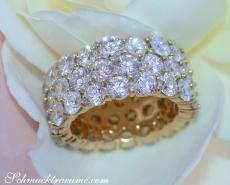 Article No.:
br_255
Crafted and designed by our own goldsmiths. Suggested retail price at luxury retailers: 29 800,00 EUR
This high carat diamond eternity ring definitely impresses by its huge diamonds and excellent craftsmanship.
First, the entire ring is set with three rows of brilliant cut diamonds (54 stones in total, 10.60 ct. G VS – .20 ct. each) all around. Every single diamond has a diameter of 4 mm. All diamonds are set seamlessly next to each other and are held by roundly crafted prongs.
The surface feels absolutely smooth and is free of rough areas. Also the inside is made all solid yet in a way that lets the light shine through so that the diamonds sparkle even more.
A top-class gem of excellent craftsmanship and diamond quality that will not only meet but even exceed even highest expecations.
Product Images
54 diamonds, brilliant cut: 10.60 ct. G VS
Width: 10.50 mm
Depth: 4 mm
Ring size: US size 7.25 (German size 55)
Weight: 15.10 grams
Processing: all solid, yellowgold 18k
Please mind: This ring is currently only in stock in US ring size 7.25 (German size: 55). Delivery period: 5 – 10 days within Germany, 6 – 21 days outside Germany.
Of course we can also craft this ring in every other ring size. Just contact us and we'll promptly quote a price and the carat weight based on your ring size without obligation.