It's probably the most personal piece of jewelry you'll ever own: your wedding ring. For wedding rings aren't just of material value (depending on the processing), but especially of emotional value. It's the symbol of love, made for being worn a lifetime. For this reason, most couples prefer timeless designs - which particularly makes sense regarding women who'd like to combine their wedding band with their engagement ring or another ring (such as anniversary bands). At the same time, lots of couples put emphasis on choosing unique rings with a personal touch rather than just purchasing "rings off the rack".
We at Schmucktraeume.com believe that jewelry should always be as individual as the person who wears it. The same is true for our own wedding ring design which is created and realized with passion for detail.
What makes wedding rings by Schmucktraeume.com unique?
Classy designs, high-quality workmanship by hand, a personal touch – that's what our custom-made wedding rings are characterized by. The men's ring as well as the lady's ring doesn't just feature a personal gravure on the inside, but also a unique detail on the outside. At this position the initial of the partner's first name will be engraved in addition – but not in any font, but in your handwriting.
The lady's ring features a small round diamond in addition that will be linked to the initial letter. Depending on the initial, a completely individual design arises, for the position of the diamond varies with every letter. The gravure in your handwriting adds a personal touch to the rings as well.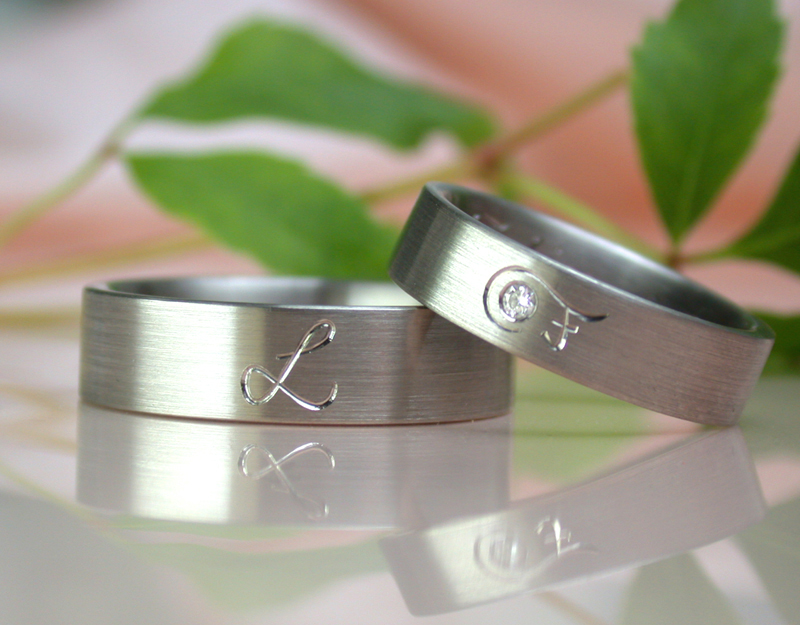 How does it work?
In case you're interested in a pair of wedding bands, we first define some basic characteristics. This means: the ring sizes, the alloy (white- / yellowgold 14K / 18K or platinum), the surface's finish (shiny or satin finish) and the dimensions (width, height, profile). At this point we provide our customers with some advice in accordance with their wishes.
Moreover, we also need some handwriting samples for the outside gravure. It is completely sufficient to send us a copy that will be forwarded to our engraver. Tip: We recommend writing down the respective initial not only once but further times. Sometimes the most beautiful draft just evolves after repeating it a few times.
Afterwards we focus especially on the lady's ring and figure out the position of the diamond. We'll send you a number of sketches from which you can choose your favorite.
As soon as the perfect draft is finished, your individual wedding bands will be crafted by our goldsmiths and engraved by our well experienced engraver.
How long does it take to make these rings?
Usually the delivery period for our wedding bands is four to five weeks.
What's the price for your wedding bands?
The prices for our wedding rings vary and depend on the respective ring sizes (and therefore the gold weight needed) and the alloy. If you're interested in an individual pair of wedding rings, you'll first receive a price quote without obligation based on your specifications (such as size, dimensions, alloy etc.). Just contact us via eMail or phone. We're looking forward to hearing from you and maybe even giving rise to your most personal piece of jewelry together with you.
∞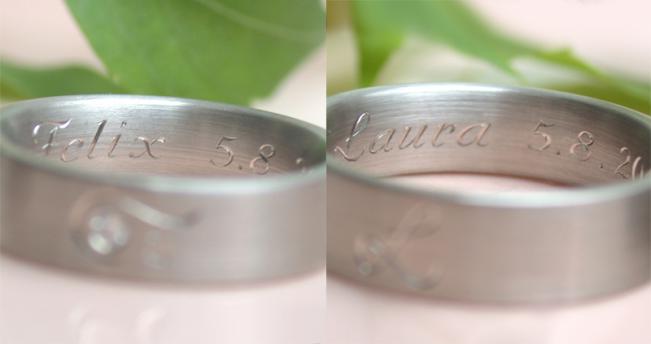 ∞