back Dreamlike: Extra wide Diamond Bangle in Rosegold
@
subscribe to our
newsletter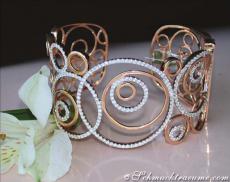 Article No.:
arm_75
Crafted and designed by our own goldsmiths. Suggested retail price at luxury retailers: 23 490,00 EUR
This article is machine translated.
Please
contact us
if you have trouble understanding it.
The entire bracelet is made in the form of intertwined circles. On the front are these circles - apart interrupted - complete set with the finest diamonds.
The hoop is to apply these, opened on one side and then closed again.
The production is worked all solid and slightly oval. Here, this gem sits perfectly on the wrist, it can therefore also not rotate.
Product Images
Once again an exceptional gem - made with great attention to detail, in top quality and a unique design!
256 full-cut diamonds, 3.93 cts. g-vs1
Processing: rose gold 18k
Width: 40 mm
Depth / Thickness: 4 mm
Diameter measured by the length: 62 mm
Weight: approximately 59.0 grams
This piece of jewelry will be crafted at the time of order. Delivery period: 4 - 6 weeks within Germany, 5 - 7 weeks outside Germany.