back Luxury: High-end Key Pendant with Yellow and White Diamonds
@
subscribe to our
newsletter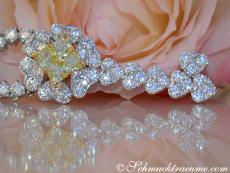 Article No.:
ba_236
Crafted and designed by our own goldsmiths. Suggested retail price at luxury retailers: 25 000,00 EUR
With this terrific key pendant, that is set with exquisite brilliant cut diamonds (3.31 ct. G-VVS) and rare yellow diamonds (1.54 ct. VVS) and made all solid in whitegold 18K, we present another top-class jewel that will easily exceed even highest standards.
First, the middle of the key head is set with four princess cut yellow diamonds (VVS clarity). They are surrounded by several "diamond hearts" that consist of three bigger and three smaller brilliant cut diamonds each that are set seamlessly next to each other.
This key head is followed by five further hearts (each set with six diamonds again).
Please mind: The diamond necklace as shown on our images serve for demonstration purposes only. It is therefore not included in this offer.
Product Images
On the lower part, a sixth heart is set next to his heart row. It kind of forms the key bit so that the entire pendant definitely forms a key.
Below, one finds the bail on the backside of the pendant. It consists of two loops and leaves enough space for wider chains.
A unique piece of jewelry that will certainly catch one's attention. Featuring a picture perfect design and being set with exquisite diamonds, it will not only meet but also exceed even highest standards.
4 yellow diamonds, princess cut: 1,54 ct. VVS
36 diamonds, brilliant cut: 3,06 ct. G VVS
36 diamonds, brilliant cut, 0,25 ct. G VVS
total carat weight: 4.85 ct.
length: 43 mm
diameter of the key head: 17 mm
width of the single "diamond hearts": 6 mm
depth: 10 mm
weight: 6,80 grams
processing: whitegold 18K
Delivery period: 5 – 10 days within Germany, 6 – 21 days outside Germany.