back Terrific: Elegant Diamond Studs with Baguette Diamonds
@
subscribe to our
newsletter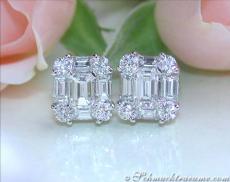 Article No.:
bo_44
Crafted and designed by our own goldsmiths. Suggested retail price at luxury retailers: 7 950,00 EUR
This article is machine translated.
Please
contact us
if you have trouble understanding it.
With these studs we present a highly attractive piece of jewelery which stands out due to its simple elegance, its precise workmanship and excellent diamond quality of finest cut, color and clarity. A top class gem that is made with great attention to detail and all solid.
First, a single emerald-cut diamond each is set in the middle of every earring.
This diamond is surrounded by four baguette diamonds (set a little more below) each. The corners are dominated by four single full cut diamonds each.
Product Images
The earrings are made all solid, the closures made large and stable - comfort and safety are thus ensured.
This piece moreover impresses due to its precise craftmansship: the diamonds are set precisely and match to each other (regarding their size) neatlessly.
Simple elegance, timeless style, highest quality - that's what makes these studs a piece of jewelry at its finest.
2 diamonds, Emerald cut, 0.66 ct. g-vvsi
8 baguette cut diamonds, 0.70 ct. g-vsi
8 full-cut diamonds, 0.38 ct. g-vsi
Total Carat Weight: 1.74 ct. (G-VVS / VS)
Processing: Whitegold 18K
Size: 8 mm x 7 mm
Depth: 3 mm
Weight: 3.60 grams
This piece of jewelry will be crafted at the time of order. Delivery period: 4 - 6 weeks within Germany, 5 - 7 weeks outside Germany.
And if you like this design, you'll also find an exactly matching ring and an matching pendant on our website: