back Huge: Amazing Diamond Hoop Earrings
@
subscribe to our
newsletter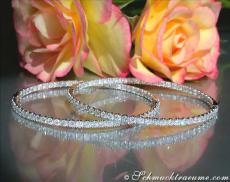 Article No.:
bo_92
Crafted and designed by our own goldsmiths. Suggested retail price at luxury retailers: 12 798,00 EUR
This article is machine translated.
Please
contact us
if you have trouble understanding it.
These beautiful hoop earrings are paved on the front and also on the inner rear with 116 diamonds. This creates a wonderful sparkle and flash - from all sides, with every movement.
The hoops are closed with a stick closure that ensure safety and easy handling.
A magnificent piece of jewelry that really catches one's attention.
Product Images
116 brilliant cut diamonds: 4.79 cts. G SI
Processing: all solid, white gold 18k
Width: 2 mm
Depth / Thickness: 2.50mm
Diameter 54 mm
Weight: 11.30 grams
This piece of jewelry will be crafted at the time of order. Delivery period: 4 - 6 weeks within Germany, 5 - 7 weeks outside Germany.