back Pure extravagance: Magnificent Dangling Earrings with Black & White Diamonds
@
subscribe to our
newsletter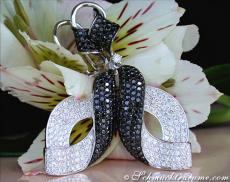 Article No.:
swo_59
Crafted and designed by our own goldsmiths. Suggested retail price at luxury retailers: 11 000,00 EUR
This article is machine translated.
Please
contact us
if you have trouble understanding it.
Another unique piece of our black and white - Collection: gorgeous earrings, set with gorgeous sparkling black diamonds and white diamonds, in a highly unusual Desgin.
First, there are top, front of the rear plugs / clip-clip closures (thus is a perfect fit and a most pleasant wearing comfort guaranteed), each curved, diamond-shaped white gold versions. These are set with deep black shimmering, perfectly cut black diamonds.
Among them, each connected by a diamond in Vollzarge, now hanging extra long, fully massive, elegantly curved white gold plates. These are paved on one side, two thirds of black diamonds.
Product Images
The fact continue running white gold bar and the opposite sides are now set with the finest white VVS diamonds.
All diamonds are set in the so-called micro-pavé setting, which means that there are no versions available, the surfaces are perfectly smooth and even - Quality you can see and feel.
A most extravagant and also unusual piece of jewelry.
258 black diamonds, 2.45 cts.
156 white full-cut diamonds, 1.59 cts. G-VVSI (carat weight engraved)
Crafted in: Whitegold 18K
Length: 4,50 cm
Width: 1.70 cm
Depth / Thickness: 4 mm
Weight: 12.30 grams
This piece of jewelry will be crafted at the time of order. Delivery period: 4 - 6 weeks within Germany, 5 - 7 weeks outside Germany.