back Pure luxury: Noble Diamond Solitaire Ring
@
subscribe to our
newsletter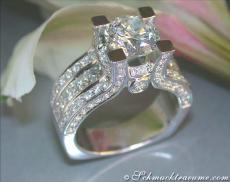 Article No.:
br_78
Crafted and designed by our own goldsmiths. Suggested retail price at luxury retailers: 30 600,00 EUR
This article is machine translated.
Please
contact us
if you have trouble understanding it.
This terrific piece of jewelry will definitely catch one's eye.
The ring is dominated by a diamond solitaire: full cut, 1.96 ct. color G, clarity I1. Thanks to the bright color, the inclusions are hardly noticeable.
Moreover, the impressive setting shows the solitaire to its best advantage. The mounting is crafted solidly and in a beautiful design. It is set with full cut as well as princess cut diamonds.
Product Images
A gorgeous , solid and precious jewel.
One full-cut diamond solitaire, 1.96 ct. G-I1 (engraved)
104 full-cut diamonds, 0.93 cts. g-si
10 diamonds Princess cut, 1.03 ct. g-si
Total carat weight: 3.92 ct. G-I1 / SI
Crafted in: White Gold 18K
Ring Head: 1cm x 1 cm
Height: 7 mm
Band width: 9 mm - 6 mm
Depth / thickness: 2 mm
Weight: 13.70 grams
This piece of jewelry will be crafted at the time of order. Delivery period: 4 - 6 weeks within Germany, 5 - 7 weeks outside Germany.
Please mind our FAQ when choosing your ring size.
Of course it's possible to customize this ring. If you wish to have another diamond (different color / clarity / weight) or a gemstone instead, please don't hesitate to contact us.