back Breathtaking: Oversized Rubellite Ring with Diamonds
@
subscribe to our
newsletter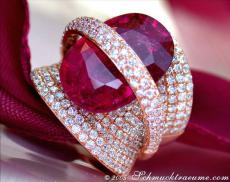 Article No.:
rr_09
Crafted and designed by our own goldsmiths. Suggested retail price at luxury retailers: 30 900,00 EUR
This article is machine translated.
Please
contact us
if you have trouble understanding it.
First, the ring head is dominated by a huge Rubellite (= Pink Tourmaline ) that is flawlessly faceted (oval) and features good clarity and a strong pinkish to red color.
This gemstone is furthermore "embraced" by a rosegold band that is set with brilliant cut diamonds.
The rubellite is furthermore set into a "bed" of brilliant cut diamonds that reaches well into the middle of the ring shank. All stones are set without visible prongs seamlessly next to each other. Thus, the surface feels absolutely smooth.
The entire ring is crafted all solid and consequently pretty heavy. Perfect comfort when being worn is therefore guaranteed.
Product Images
Moreover, there's a cute detail on the inside: a little heart is crafted into the ring shank - exactly at the point where the down side of the rubellite meats the surface of the ring head.
Truly a magnificent world-class gem that will definitely catch one's attention and probably attract ladies that favor huge, valuable pieces that make a statement.
1 rubellite, 13.47 cts. (Length x Width x Depth: 19 mm x 14 mm x 6 mm)
322 full-cut diamonds, 3.47 cts. g-vvsi
Processing: All solid, handmade, rosegold 18k
Length of the ring head: 23 mm
Width of the ring head: 20 mm
Ring shank's Width: 16 mm on each side, 6 mm on the back side
Weight: 20.50 grams
This piece of jewelry will be crafted at the time of order. Delivery period: 4 - 6 weeks.