back Finest luxury gem: Exquisite blue diamond solitaire ring
@
subscribe to our
newsletter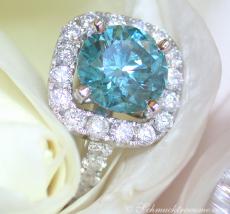 Article No.:
br_162
Crafted and designed by our own goldsmiths. Suggested retail price at luxury retailers: 20 760,00 EUR
This article is machine translated.
Please
contact us
if you have trouble understanding it.
In the middle of the ring head a first-rate blue diamond brilliant cut solitaire is set - excellent blue / turquoise color, excellent purity, 2.01 cts. VS
This solitaire diamonds is bordered by: a little deeper set, the corners gently rounded. Laterally both ring bands in the upper third are paved with diamonds as well.
The ring rail all solid manufactured is smooth with a width of 2 mm to the rear.
Product Images
Not just a overseeable fine piece of jewelry, but also a rarity at its best!
1 blue diamond solitaire, 2.01 cts. VS (heated)
24 brilliant-cut diamonds, 1.04 cts. G-VS
Ring head: 12mm x 12 mm
Height: 1 cm
Weight: 4.30 grams
Crafted in: Whitegolg 18K
Delivery period: 5 - 8 days within Germany, 6 - 17 days outside Germany.

Please mind our FAQ when choosing your ring size.