back High-end: Exquisite Diamond Ring with Flawless Diamonds
@
subscribe to our
newsletter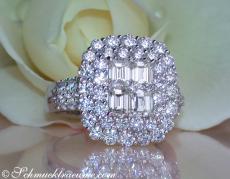 Article No.:
br_207
Crafted and designed by our own goldsmiths. Suggested retail price at luxury retailers: 15 400,00 EUR
With this diamond ring we present another high class jewel that impresses due to the finest diamond quality, superb craftsmanship and a precious, timeless design.
First, the middle of the ring head is set with four emerald cut diamonds (1.00 ct. F color IF clartiy) that are set closely to each other.
Every diamond is a flawless 25-pointer.
Another single full cut diamond is set into the middle of the square.
Product Images
Moreover, two rows of brilliant cut diamonds are set around this square of emerald cut diamonds. They are set into a micropavé setting, this means that the surfaces are absolutely smooth. There aren't any rough areas or such.
The ring band (5 mm wide) is set with three rows of diamonds up to the middle of the ring shank.
The inner back side is crafted solidly as well.
An exquisite luxury ring that will easily meet even the highest standards.
4 Diamonds, flawless Emerald Cut, 1,0 ct. F, IF
36 Diamonds, Brilliant Cut, 1,45 ct. F, VVS (outer setting)
25 Diamonds, Brilliant Cut, 0,40 ct. F, VVS (ring band setting and single diamond in the middle)
Total: 2,85 ct. F,  IF/VVS
Ringhead (Length x Width): 16 mm x 14 mm
Ring Band: 5 mm sideways, narrows to 3 mm
Weight: 6,60 grams
Processing: all solid, Whitegold 18K
This piece of jewelry will be crafted at the time of order. Delivery period: 4 - 6 weeks within Germany, 5 - 7 weeks outside Germany.
And if you like this design, you'll also find a matching pendant and matching earrings on our website: