back Interesting: Snake Ring with Black & White Diamonds
@
subscribe to our
newsletter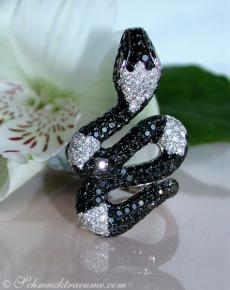 Article No.:
swr_83
Crafted and designed by our own goldsmiths. Suggested retail price at luxury retailers: 5 900,00 EUR
This article is machine translated.
Please
contact us
if you have trouble understanding it.
Another highly attractive and eye-catching ring - (2.60 cts) were costly solid, that is, with 242 deep gleaming black diamonds and 81 white diamonds (0.73 cts h-si) paved and manufactured in white gold 585 - we present you with this unique piece of our own designers / goldsmiths. A ring at its best, which was made with great attention to detail and certainly catches the eye.
From the massive Ring crafted rail elegantly curved white gold rails run in the Snake design over the entire ring head having a considerable length with a length of 3.60 cm.
Product Images
Holds out this snake alternating with deep gleaming black diamonds and white diamonds.
All diamonds and diamonds are set in Micropavésetting, which means that the surface is perfectly smooth, even and free from rough or sharp points.
Again, a strikingly extravagant ring, which - is not overlooked - also because of its impressive size. A real eye-catcher.
242 deep shimmering black diamonds, 2.60 cts.
81 white diamonds, 0.73 cts. h-si
Ring head length: 3.60 cm
Ring head width: 2.10 cm
Ring head-height: 8 mm
Ring rail concurrently 3.50mm
Weight: 9.00 grams
Processing: solid white gold 14K
This piece of jewelry will be crafted at the time of order. Delivery period: 4 - 6 weeks within Germany, 5 - 7 weeks outside Germany.
Please mind our FAQ when choosing your ring size.