back Luxury: Tremendous Emerald Ring with Diamonds
@
subscribe to our
newsletter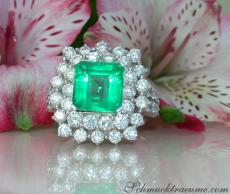 Article No.:
sr_18
Crafted and designed by our own goldsmiths. Suggested retail price at luxury retailers: 22 430,00 EUR
With this striking emerald diamond ring, we present a top-class jewel that impresses by stately measurements and exquisite gemstone quality.
First, the ring head is dominated by an excellent emerald square: flawless emerald cut, intense emerald green color, very good transparency (comparably few "Jardin" which is typical for emeralds).
This emerald is furthermore surrounded by two rows of brilliant cut diamonds (32 diamonds in total).
The ring shank is set with two rows of brilliant cut diamonds as well. The stones reach well until the middle of the entire shank. It afterwards measures 3 mm width congruently.
Product Images
A true jewel that impresses by its stately dimensions, excellent gemstone quality and finest craftsmanship and that easily meets even highest demands.
1 Emerald Square (Emerald cut):  3,87 ct.
Dimensions of the emerald: 10 mm long x 1 cm wide x 7 mm high/deep
32 Diamonds, Brilliant Cut (surrounding the emerald): 1,68 ct. G VS
16 Diamonds, Brilliant Cut (ring shank) 1,08 ct. G VS
Diamonds' total carat weight: 2.76 ct. G VS
Dimensions of the ring head: 20 mm x 20 mm
Ring head's height: 10 mm
Width of the ring shank: 5 mm on the sides, narrowing down to 3 mm width on the back
Weight: 9,20 grams (applies to US size 7.75 / German ring size 57)
Processing: Whitegold 18k
This piece of jewelry will be crafted at the time of order. Delivery period: 4 - 6 weeks within Germany, 5 - 7 weeks outside Germany.