back Exquisite: Impressive Green Amethyst Ring with Diamonds
@
subscribe to our
newsletter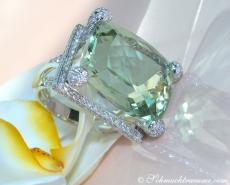 Article No.:
ar_20
Crafted and designed by our own goldsmiths. Suggested retail price at luxury retailers: 10 000,00 EUR
This article is machine translated.
Please
contact us
if you have trouble understanding it.
An impressive Prasiolite (green amethyst, 22,13 ct.) in excellent purity / brilliance / chroma and flawless cushion-cut, combined with the finest diamonds (1.784 cts TW-VS.), crafted in whitegold 18K - these are the compelling attributes of this exceptional ring.
In the middle of the ring head is a handsome Prasiolite - finest lime green color and excellent transparency - set in immaculate Cushion-Cut.
Product Images
The prasiolite is now held by four out bordered with diamonds prong that run through a set including rectangle that is as complete set with diamonds. These are therefore to very ornate and unusual design.
Likewise, the four lateral ring rails are paved up to the middle with diamonds.
Once again, a striking piece of jewelry in stately size and excellent quality - just an eye-catcher at its finest.
1 Prasiolite, best quality in color / purity / cut, 22.13 cts. (!)
236 diamonds 1.784 cts. G-VS1
Ring head: 2.0 cm x 1.6 cm (!)
Ring head-height: 11 mm
Band width: 9 mm laterally tapered to 4 mm
Ring Size: 16.8 mm / Gr. 53
Solidly crafted in: Whitegold 18K
This piece of jewelry will be crafted at the time of order. Delivery period: 4 - 6 weeks within Germany, 5 - 7 weeks outside Germany.
Please mind our FAQ when choosing your ring size.
Of course, we fabricate this ring to measure in your desired size, and in each alloy as a colored stone of your choice, such as a purple amethyst, citrine, peridot, blue topaz, etc. - just call us anytime or send us an e- Mail.