back Luxury Jewel: Terrific Tahitian Pearl Ring with Black & White Diamonds
@
subscribe to our
newsletter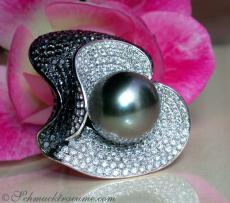 Article No.:
pr_213
Crafted and designed by our own goldsmiths. Suggested retail price at luxury retailers: 18 200,00 EUR
First, the ring head is dominated by a handsomely curved whitegold heart that is set with diamonds in micropavé setting. Thus, no prongs are visible, the surface is completey smooth and even.
This heart is dominated by a beautiful tahitian pearl: completely flawless, diameter 15,00 mm (stately), anthracite-silver shimmering, perfectly glossly luster.
Moreover, an additional whitegold plate swings next to the whitegold heart. It is black rhodinated and entirely set with shimmering black diamonds (micropavé setting as well).
Product Images
The ring shank is set with black diamonds on each side as well and that do reach the middle of the band.
Furthermore, the entire ring is crafted all solid and quite heavy in addition - due to its stately weight (27,60 grams!), one can really feel the ring on the finger. Quality you see and feel.
A true jewel in a highly unusual design - again another eye-catcher at its finest.
212 Diamonds, Full Cut, 2,68 cts. G-VS2
242 Black Diamonds, 3,98 cts.
1 Tahitian Pearl, antracite-silver, 15,00 mm Diameter, completely flawless
Total: 6,66 cts.
Length of the Ring Head: 38 mm (!)
Width of the Ring Head: 26 mm (!)
Height of the Ring Head: 19 mm
Width of the Ring Band: 4 mm all around
Weight: 27,60 grams
Crafted in: Whitegold 18K (all solid)
This piece of jewelry will be crafted at the time of order. Delivery period: 4 - 6 weeks within Germany, 5 - 7 weeks outside Germany.
Please mind our FAQ when choosing your ring size.