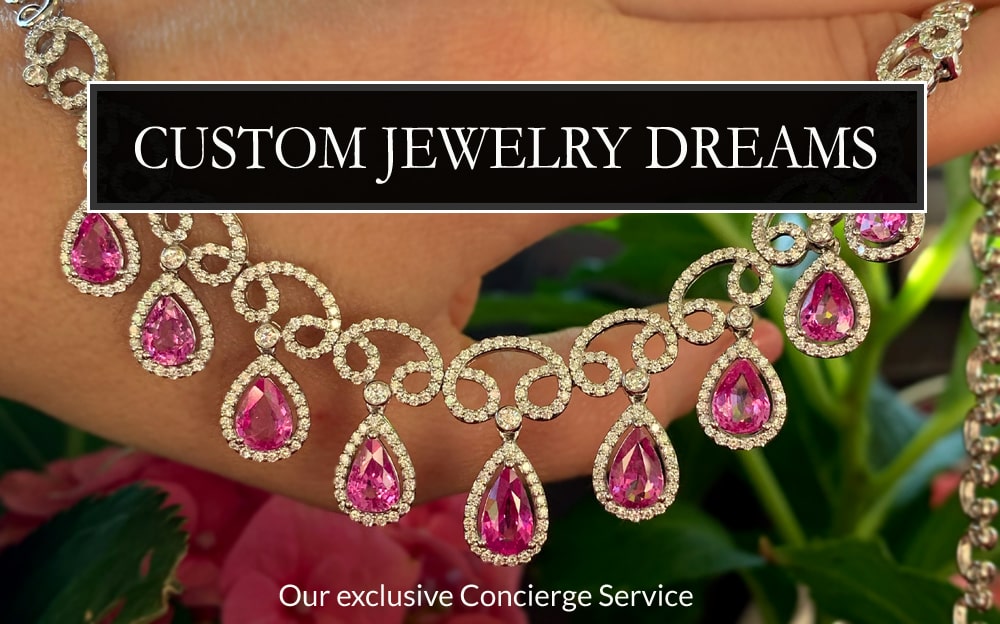 Your custom master piece 
Life is too short to wear boring jewelry. Thus, when getting in touch with us, you won't find any off-the-peg jewelry that is lost in the masses in terms of design and execution. And that's why we also want to enable you to create your very own, individual piece of jewelry that corresponds exactly to your ideas. Whether it's a modification of an existing design from our collection or a completely new piece of jewelry - as part of our exclusive concierges service, we have been regularly making custom jewelry for our customers for many years. Depending on the effort and complexity, we always involve our customers in the process and are always available to answer any questions, uncertainties and comments throughout the entire process.
Thanks to our international network of excellent gemstone, pearl and diamond dealers, which has grown over decades, as well as the close cooperation with our experienced master goldsmiths and gemstone setters, we are able to realize almost any customer request.

How does it actually work? Our concierge service step by step:

1. Reach out to us and describe your ideas as precisely as possible. This includes the design, the desired size, alloy, gemstones, cut type, etc. If you have image files, please feel free to send them to us. The more precise, the better! If possible, please also let us know your budget. This helps us to separate the feasible from the unfeasible in advance and to offer you appropriate options and/or alternatives.
2. We will take a close look at your request and get back to you quickly. Depending on the complexity of the project, we prefer to discuss your request over the phone at this point in order to understand exactly what you want and clear up any ambiguities. You have a lot of questions or are unsure what looks best? Don't worry: we're here to help you with both design and gemology questions. You don't have to know everything, after all, that's what we're here for.
Please understand that we cannot explain extraordinarily complex dimensional requests in advance exclusively via email, as experience has shown that this makes such a project more complicated and lengthy than it actually needs to be. In a personal telephone conversation, however, many things can be clarified more easily and quickly.
(As far as you only want a modification of an existing design from our collection, which does not require any major effort, we can of course organize this without any problems and comparatively quickly).
3. We have discussed everything and know exactly what you have in mind. Now, together with our goldsmiths, we create a non-binding price offer for you. To do this, we calculate the expected carat weight required as accurately as possible. We do not give "rough estimates", but only serious calculations, in which we invest the appropriate amount of time. Speaking of time: For pieces with particularly rare gemstones, it can sometimes take a little longer until we have found the perfect gemstone for you, so that we can then calculate a price for the actual piece of jewelry.

4. You have said "yes" - now it's our turn. From receipt of payment, we first commission the 3D sketch for your new piece of jewelry. This sketch is the model for the actual piece. Here you can see even the smallest detail exactly and know exactly what you can and may expect. At this point, of course, changes in the design are still possible. The piece of jewelry is guaranteed not to be made without your confirmation.
As far as your desired piece of jewelry is connected with a very special gemstone (e.g. sapphire, emerald, ruby or tourmaline in appropriate size and quality), a diamond solitaire from 0.50 carat or a special gemstone color layout, you will of course receive pictures and if necessary also videos of the stones in advance. 
5. You have given us your "okay". Now it really starts and we commission the production, which takes four to six weeks depending on the effort.
6. Your unique piece is finished - finally it is on its way to you. We wish you a lot of joy while wearing it!
You still have questions? Then you may find what you are looking for here:
In most cases, we cannot use your old gold or smaller customer stones (from jewelry, bezels, etc.) for special designs. Also revamps of your jewelry are mostly not possible. (An exception are solid "gold-heavy" goldsmith work without lavish pavé settings, which we can have made to measure in Germany). However, since our jewelry is generally made in the USA rather than Germany, reworking over this distance would not be worthwhile, since the cost of customs clearance for reworked jewelry is immense.  
However, as far as you want to give an existing diamond solitaire or gemstone jewelry piece an "update", we can gladly make a new setting for your diamond or gemstone depending on the design and condition of the gemstone.
Please understand that we cannot accept returns on custom-made products that are explicitly manufactured according to your specifications.
We always calculate based on current market prices for the respective required materials (gold, diamonds, etc.). Therefore, our price calculations are in most cases valid for fourteen days, in volatile times even only seven days.
Since we rely on an international network of gemstone and diamond dealers to find the most excellent and unique jewels for you, a personal pre-inspection of the gemstones and diamonds used is not possible. However, we have been working with extremely informative pictures and videos for years and have never disappointed a single customer.