About us / General information


Where do the pieces of jewellery offered on Schmucktraeume.com come from?
All our jewellery is created by ourselves in cooperation with our designers and produced by our goldsmiths in San Francisco (USA). Therefore we offer exclusively new and no pre-owned jewelry.


Do you also have a store where I can have a look at your jewellery?
We see ourselves as an online-only jeweller and therefore do not run a retail store. Only because of this we are able to offer a wide range and collection of currently about 1.100 different pieces of jewellery. By saving the costs of a retail shop (security, sales personnel, etc.), we can offer our jewellery at a much lower price than in a stationary jewellery shop. You will therefore not find such a selection combined with this price-performance ratio in any retail shop.

Logistically as well as for security and insurance reasons, it would be just as impossible to keep such a wide selection of jewellery in stock for presentation purposes. If, on the other hand, we had to have each of our offered pieces of jewellery in stock, we would not be able to offer you such an extensive collection.

A personal presentation of our pieces of jewellery is therefore not possible. However, exceptions to this rule may be possible in individual cases. Just contact us and we will certainly find a satisfactory solution.


How long has Schmucktraeume.com actually existed?
Our online shop went online for the first time in 2002. At that time we were one of the first online jewelers in Germany specializing in high-quality jewelry and offering it exclusively online. Two years earlier, at the beginning of 2000, we offered our jewellery for the first time on eBay.de, where we have been getting 100% positive customer feedback for 20 years.


Why are high-quality jewellery items at Schmucktraeume.com so cheap compared to many jewellery stores on the street?
Since our company has established itself very well in the worldwide online business over the years and we are very happy about a constantly growing number of new customers, we now employ our own jewelry designers as well as excellent goldsmiths. This means: Due to the direct production we can exclude the entire intermediate trade (= production - wholesale - retail - end consumer) and pass the resulting price savings directly on to our customers.

Last but not least, our prices are also based on our business model. Schmucktraeume.com is selling exclusively online. Thus, in contrast to retail stores, there are no costs such as shop rent, sales personnel, security etc., which by nature make up a considerable part of the price a piece of jewelry costs in stationary trade. This means that with us you only pay the price of a piece of jewellery including taxes, but not the additional costs of a jewellery store.

Products, specifications and presentation
I can't quite imagine how big a piece of jewelry really is. What do the sizes in the item descriptions mean?
We know how important detailed product descriptions are. Because our customers cannot see a piece of jewellery before they buy it, it is all the more relevant to replace the haptic experience with exact descriptions that give the customer an exact idea of the piece of jewellery in question. This is especially true with regard to size specifications. In the case of rings, we measure both the ring head and the ring shank / band, in the case of ear jewellery and pendants we measure the respective length, width and depth. If you do not know exactly what is meant by terms such as "depth of the ring head" or "dimensions of the bail", please take a look at the following graphics.

Tip: In order to get a precise idea of the size of a piece of jewellery, it is a good idea to draw a sketch according to our specifications. A piece of paper, pencil and ruler are enough to make sure that the piece of jewellery you want is not too big or too small.



Rings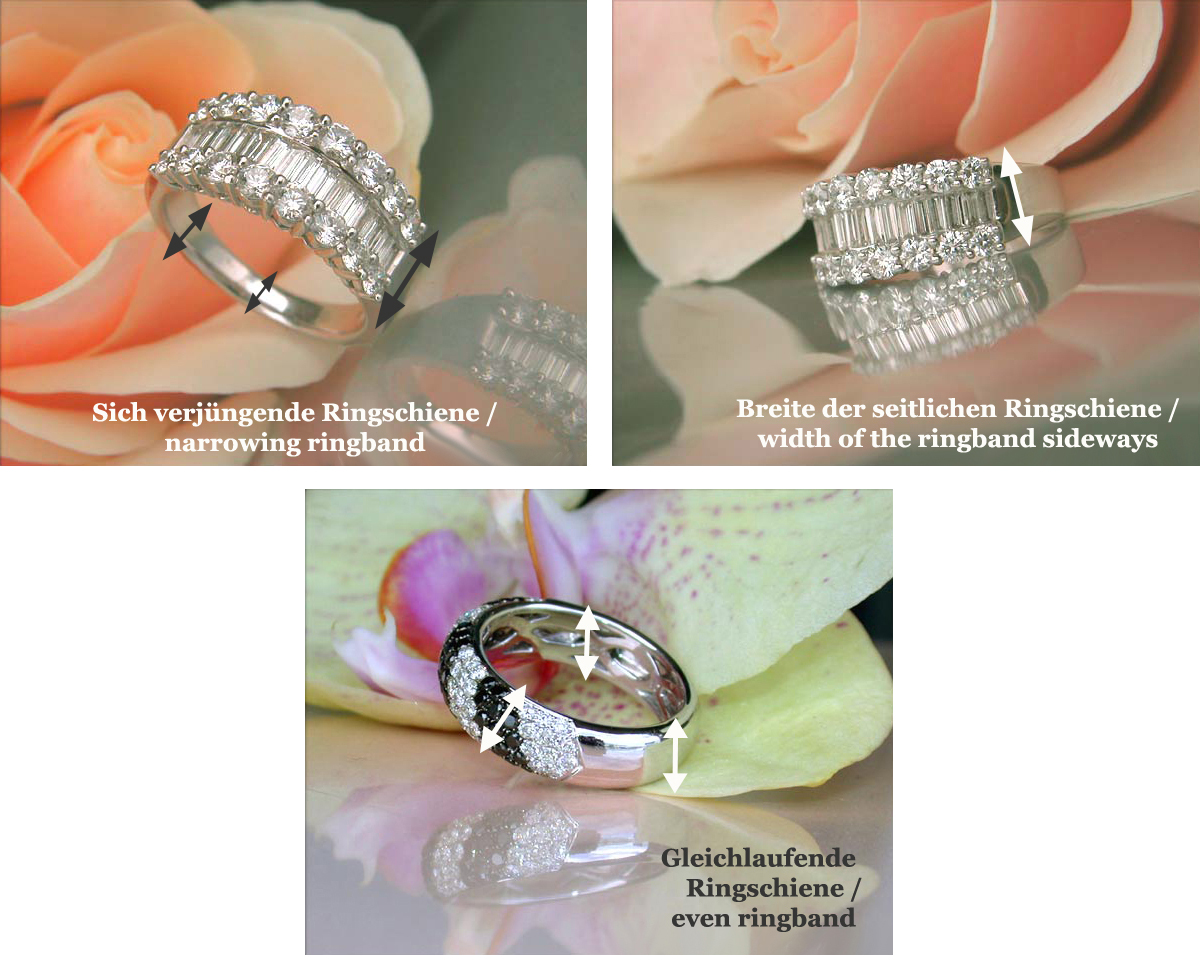 Earrings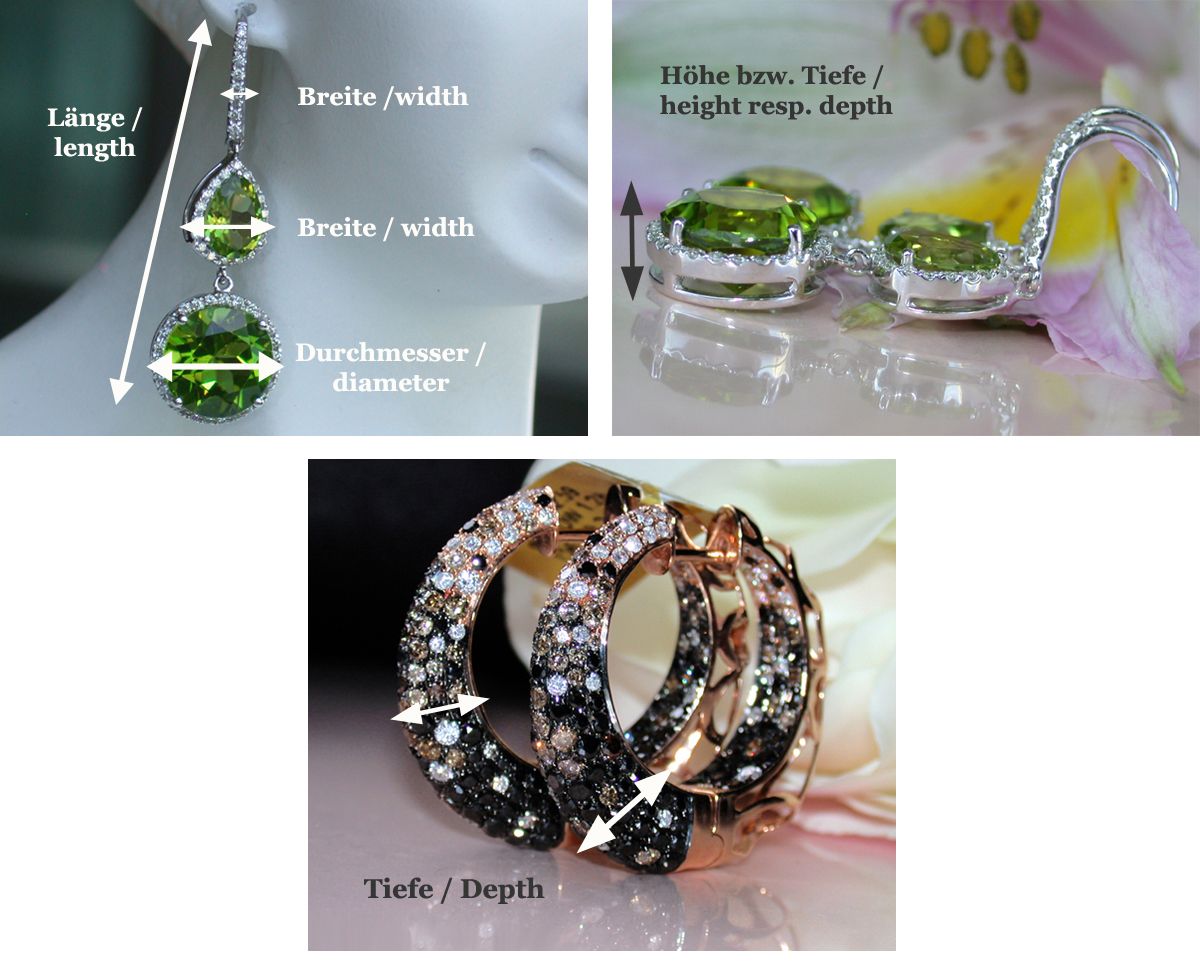 Pendants

Are the photos of the jewellery true to colour?
Yes, we photograph all our jewellery ourselves and only in daylight. We do not use any artificial aids, nor are the pictures of our jewellery subsequently "optimised" in an unrealistic way with image editing programs. In concrete terms, this means that diamonds are not made whiter and brighter than they actually are. The same applies to gemstones whose color we do not additionally intensify. Furthermore, we photograph the majority of our jewellery on natural models (rings on a real woman's hand, ear jewellery on real ears, etc.), so that you can get a realistic picture of the size.
It is important to us that our customers know in advance exactly what they can expect. By presenting our pieces of jewellery as they look in real life, we avoid unpleasant surprises for our customers and have kept our return rates extremely low ever since.


Can I order a piece of jewellery in a different alloy or with different gemstones / diamonds / pearls?
Of course! We are happy to make each of our pieces of jewellery to measure according to your ideas. No matter if it is just another alloy (yellow, white & rose gold 14k / 18k or platinum 950), if you want a different diamond quality or if you want to order a certain piece of jewellery with a completely different stone setting - a customization based on your specifications is possible at any time without any problems. Please do not hesitate to contact us!


Can I also contact you regarding a custom-made product?
Absolutely! Together with our goldsmiths, we are also available for special designs, which are created exclusively for you and according to your specifications. Just call us or write us an email / message and let us know what you have in mind.


I own a lot of old gold. Is it possible to use this for the production of one of your pieces of jewellery?
Unfortunately not. We do not accept scrap gold as a matter of principle.


Why can I order an eternity ring only in size 52 to 54?
Full eternity rings are defined by the fact that the respective ring is set with diamonds all around. It depends on the ring size, how many stones and how much gold are needed for the production. Therefore, the price varies depending on the ring size, as it is determined by the carat weight / stone setting and the gold weight. One and the same ring design can be set with two carats in ring size 50 (relatively small size), for example, but with size 60 (slightly larger size) it can already be set with three carats of diamonds. In this respect, there can be considerable differences depending on the design. This applies all the more to very wide or elaborately crafted rings (for example with diamonds in several cuts), which make up a large part of our eternity collection.

If you are now interested in an eternity ring which we do not offer in your size for immediate order, please contact us and let us know your ring size. We will then calculate a price and the carat weight for the requested model based on your ring size. This way (calculation on measure) we can offer you a fair price-performance ratio, because the respective final price is also clearly in relation to the actually required diamonds. On the other hand, this precision would not be possible with all-inclusive prices that apply to all sizes. For this reason we offer full eternity rings for immediate order only in the most desired ring sizes (i.e. 52 to 54) and process requests for all other sizes individually.


Why can I choose a certain color for jewelry with Tahitian Pearls?
While South Sea pearls vary from silver-white to cream-white to rich gold tones, Tahitian pearls have a very wide range of colors. The most common color is anthracite with various lighter and darker silver overtones. To better meet your expectations, we offer you the option of specifying your color preference when you place your order.

You can choose from the following colours:


Nevertheless, please remember that pearls are a natural product without any human intervention. No pearl is therefore the same as any other. We will do our best to come very close to your color preference regarding Tahitian pearls. If you would like Tahitian pearls in a highly particular shade, please let us know before you order.

As we purchase our pearls directly from pearl farms, we have a vast selection of Tahiti and South Sea pearls in all sizes and colors to meet your exact requirements.


What pearl quality do you offer?
All pearl jewelry presented by us is made with the best AAA pearl quality. This means: We offer you exclusively flawless to almost flawless top quality in form, color and luster. So you will never receive from us baroque pearls or pearls with deformations, grooves, holes, notches or considerable growth characteristics. Pearls that are 95% free of growth characteristics, perfectly rounded and have a very good luster are rated AAA quality. You will receive exactly such pearls from us for every piece of pearl jewellery you desire.

You can find out more about Tahitian pearls on our pearl information page.


Will I get a certificate for my new piece of jewelry?
Of course, our customers receive a certificate for each piece of jewelry with each purchase. In this certificate, all the essential characteristics of the piece of jewelry (gold / alloy, carat weight, clarity / color of diamonds, pearl diameter, etc.) are noted and as a jeweler, we guarantee the truthfulness of our quality specifications according to the manufacturer's specifications.


How do I calculate my ring size?
In contrast to pendants or bracelets, the size of rings is very important. The size of a ring is right when it can be easily taken off and put on on the one hand, but on the other hand it is not lost and if possible not felt.

To determine your ring size, please take a ring that fits you well and measure the inner diameter with a ruler - i.e. from one inner edge of the ring to the opposite inner edge. Please refer to the following table to find the ring size that suits you best:


| | | | |
| --- | --- | --- | --- |
| Innendurchmesser / Inside Diameter (mm) | Ringgröße Deutschland / Ringsize Germany | Ringsize USA & Canada | Ringsize UK & Australia |
| 14,60 mm | 46 | 3,75 | G I ½ |
| 15,00 mm | 47 | 4 | H |
| 15,30 mm | 48 | 4,5 | I ½ |
| 15,60 mm | 49 | 5 | J ½ |
| 15,90 mm | 50 | 5,25 | K |
| 16,25 mm | 51 | 5,75 | L |
| 16,50 mm | 52 | 6 | L ½ |
| 16,80 mm | 53 | 6,5 | M ½ |
| 17,20 mm | 54 | 6,75 | N |
| 17,50 mm | 55 | 7,25 | O |
| 17,80 mm | 56 | 7,5 | O ½ |
| 18,10 mm | 57 | 8 | P ½ |
| 18,50 mm | 58 | 8,25 | Q - Q ½ |
| 18,80 mm | 59 | 8,75 | R |
| 19,10 mm | 60 | 9 | R ½ |
| 19,40 mm | 61 | 9,5 | S ½ |
| 19,75 mm | 62 | 10 | T ½ |
| 20,10 mm | 63 | 10,25 | U - U ½ |
| 20,40 mm | 64 | 10,75 | V |
Shopping and ordering
I would like to save some pieces of jewellery on a wish list - how does it work?
In order to be able to use our wish list function to its full extent, a registration is required - just like in any other online shop. Only with a customer account you can save as many products as you like and view them again at any time. In order to be able to use the wish list, we only need your name and your email address when you register.


How can I pay at Schmucktraeume.com?
We accept advance payment by bank transfer as well as Paypal. Also payments by credit card and direct debit are fast and easy via Paypal - by the way, you do not need a Paypal account for this.


I have ordered a piece of jewellery from you via your online shop and have already paid. How does it go on now?
First you will receive an order confirmation from us with all important information. If the ordered piece of jewellery is currently in stock, we will send it immediately after receipt of payment to your specified delivery address. If the respective piece of jewellery is not in stock and will be newly manufactured for you instead, we will contact you again upon completion and dispatch. You can also view all important updates of your order under "Orders" in your customer account.


Can I return a piece of jewellery ordered from you?
Of course you can make use of your legally guaranteed right of withdrawal according to our withdrawal regulations. You can find more details here.
Service and care
My new ring doesn't fit. What do you want me to do?
If you have made a mistake in your choice of ring size when placing your order, you can always contact us to change it. We are happy to offer you the option of resizing your ring by our Germany based goldsmith for an additional charge. Please note, however, that full eternity rings cannot be resized and that we have less leeway (max. 1 - 2 sizes) for some ring designs. The surcharge will be calculated individually and depends on the effort and possible material costs (e.g. additional gold for widenings).


I bought a pair of earrings from you and now I have lost one of them. Can I also order a single earring from you?
Of course it is no problem to make a single earring if desired. Please feel free to contact us by phone or via email / contact form.


I like one of your pendants, but I would like to order a matching necklace. How do I proceed?
In this case, please let us know briefly what kind of necklace (length, alloy, design) you have in mind. Alternatively, we will be happy to advise you so that the chain and pendant fit together perfectly. In any case you will receive a non-binding price offer. Afterwards you can order your desired pendant including the chain from us.


I would like to enjoy my new piece of jewellery as long as possible. What is the best way to care for it and what should I pay attention to?
As a jeweller it is also important to us that your piece of jewellery gives you as much pleasure for a lifetime as on the first day. Of course, jewellery should be worn, that's what it's there for - and yet we strongly recommend that you take it off on some occasions: When working in the garden or in the household (i.e. cleaning agents and detergents), for example, you should definitely not wear your jewellery. You should also keep your jewellery away from salt water and chlorine. Similarly, when doing sports or similar activities, there is a risk that a piece of jewellery (especially rings) will be subjected to shocks, which can damage settings or even entire gemstones.

We also recommend that you avoid contact with cosmetics, beauty products (such as hairspray) and perfume - this is especially true for pearls, whose surfaces are very sensitive to this. However, it is generally advisable to avoid greasy films etc. Our rule of thumb: first apply care and styling, then put on the jewellery.

As far as cleaning is concerned, it is usually sufficient to clean your jewellery regularly with a little lukewarm water, mild soap and a cloth and a soft toothbrush. For a more in-depth cleaning, ultrasonic baths are also suitable, although it should be noted here that some gemstones should definitely not be treated with ultrasound. Should you wish to have your piece of jewellery cleaned by ultrasound at a local jeweller, please contact him/her beforehand and ask him in this regard.

In principle, we also recommend that you have a piece of jewellery regularly (depending on use, about every one to two years) checked by an experienced goldsmith for signs of wear and tear. It is completely normal that, for example, with a ring that is worn daily and subjected to everyday wear and tear, one or more settings / prongs will at some point lose their grip. This is especially true for Pavé jewellery with many small, fine prongs. This should be checked and, if necessary, reworked to prevent loss of stones. The same can also apply to the clasps and links of necklaces and bracelets, depending on how they are made. We will be happy to get you connected with our Germany based goldsmith who will carry out such work for you accurately and inexpensively.